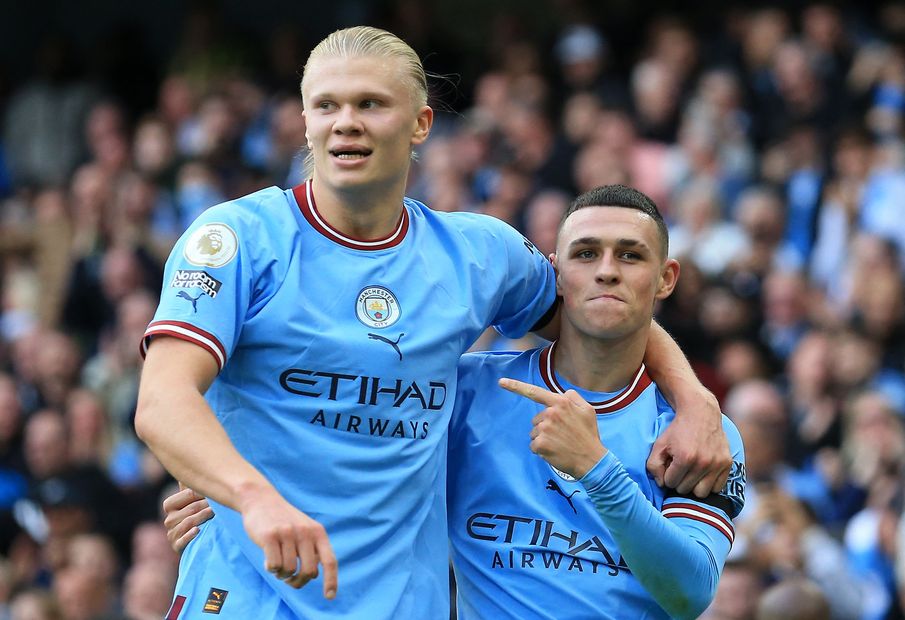 05 Oct

Additional string of Haaland makes City an impossible bow to play with 

There are many times in football when a spectator is left quite literally speechless by what is unfolding in front of them.

Be it a moment of pure madness dictated by an obscene piece of skill, or a flash in the pan goal plucked straight out of thin air by a footballer who has decided to defy the basic laws of physics when placing a spherical bag of air made from leather into the back of a net, football is a sport which frequently produces these moments of speech-draining excellence and will continue to do so. For as long as Erling Haaland is playing the game, these very moments will start to become less infrequent.

The Norwegian's impact on a Manchester City team who have struck fear into opposing teams for a number of years has been well documented. For a while it was widely accepted that the Cityzens were missing just one potential element from a star-studded line up that have at times literally just walked the ball into the back of the net and strolled to league titles by playing attacking midfielders up front – a traditional No. 9.

City didn't desperately need to recruit a striker but capturing the best in the business was going to do anything but make them a weaker entity for the rest to contend with. That has already been proven, and more, just eight games into this enthralling Premier League campaign.

Sunday's eagerly anticipated Manchester derby between champions City and a new-look, Erik ten Hag-shaped United team always had the makings of a firecracker showdown. The Red Devils have been largely underwhelming and frighteningly inconsistent since the departure of Sir Alex Ferguson almost a decade ago but regularly up their game against the team their former boss merely once described as "noisy neighbours". This time, though, they found their bitter rivals simply too hot to handle.

Mistakes were made by United and tactically it can be said that ten Hag got things wrong at the Etihad. However it does feel a little harsh to berate the visitors too much when they were faced with such a flawless force, one so unforgiving it was even painful to watch from the confines of an L-shaped sofa following one too many Peroni's the afternoon after night before. It is almost like slagging off the Kaiser Chiefs for not being the Beatles. United weren't at the races, that much was obvious, but it seems impossible to envisage any team in world football being able to halt Pep Guardiola's Lamborghini of a team when they hit sixth gear.

The fact that Phil Foden – just 22 years old and barely a teenager the last time United won a Premier League title – scored a hat-trick and still wasn't the most talked about player on an afternoon packed full of goal-infused drama in east Manchester, says it all. That was because Erling Haaland scored his third hat-trick of the season and he has only played eight games, making him the quickest player to do so in history. For some context, the second-quickest player to achieve such a feat was Michael Owen. It took him 40 more games. It's frightening stuff.

Haaland's arrival was met with cries of the phrase "cheat code" before he had even kicked a ball in a sky blue shirt; that he was the final cog to be screwed into City's gold-plated machine. After not even ten league games, it's safe to say that the Norwegian goalbot, who at this point I'm not even convinced is made out of skin, bone and blood like the rest of us mere mortals – more so just a fine mixture of iron and steel and that expensive supreme petrol you see at the pumps but never put in your car when you're filling up at Texaco – is indeed very much a cheat code and there isn't actually a team or defence in the world who is going to be able to stop him from putting a football into a goal.

City were an incredible team before 22-year-old Haaland's arrival. Now, they might have just transformed into the best team in English football history. A grim reality for this particular Southampton fan, who has just taken a quick look at next weekend's fixture list.