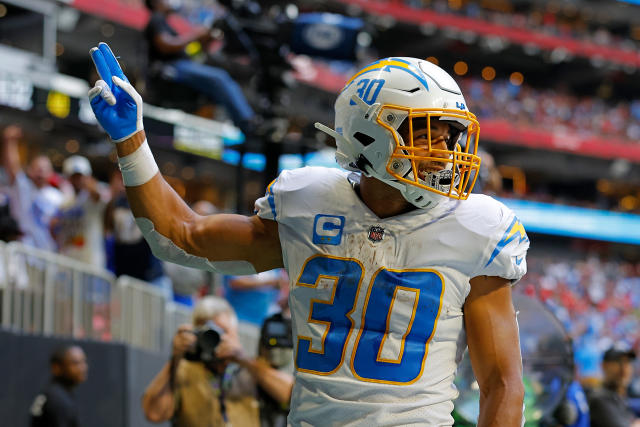 24 May
Austin Ekeler reaches compromise and is expected to show at minicamp.
Austin Ekeler's situation with the Los Angeles Chargers has seemingly gotten better lately. Having requested a trade in the middle of his contract negotiations, it was expected that he wanted to leave. However, that's taken another turn in the past week.
The Chargers just recently began their OTAs and Ekeler wasn't there. Which isn't incredibly surprising given the situation. Their head coach Brandon Staley wasn't worried at all though because most of these are voluntary. Staley was asked about it and mentioned that he expects that his number one running back will be showing up for mandatory minicamp by the time June rolls around. He also talked about how he's been one of the best backs in the league in the past two years while also being one of their captains.
Ekeler has posted 38 touchdowns in the past two years with over 1,500 yards from scrimmage in each of those years. He is currently making just $6 million per year, which is 13th among other running backs. The production and volume that he's posted certainly shows that he's deserving of a bigger deal. The franchise is hesitant to dish out that much cash on a running back though, which has started and dragged on this whole situation. If the team does push Ekeler to the side, their backfield consists of Joshua Kelley, Isaiah Spiller, and Larry Rountree III.
On top of that recent news, it was reported that Ekeler and the team made progress on a deal. Just one day after Staley said that he expects Ekeler to show up at minicamp, the final year of his current contract got reworked. Ekeler and the team agreed upon a new contract that adds roughly $2 million worth of incentives. So, if he can continue to produce at a high level, he'll make an increased amount for the final year of his deal. Ekeler seems to be okay with that for now while this also keeps the Chargers from locking into a massive deal in case he gets injured, or his production drops off.
This report states that the expectation for Ekeler is that he'll stick around in 2023. So, don't expect a trade for him anytime soon. However, this isn't a long-term solution. He'll need a new contract next season and could be a franchise tag candidate when that comes around. After all, the contract extension talks have not made much progress whatsoever. The compromise on his current deal was really the only progress that's been made at all.
It is unfortunate that the running back market has struggled lately due to its replaceability. Just look at the New York Giants running back Saquon Barkley struggling to find common ground on a new deal. Then the Las Vegas Raiders running back Josh Jacobs has run into the same issues this past season, and both of these guys are considered franchise cornerstones of their respective offenses. Ekeler has a long journey in front of him, but you can't knack his production.