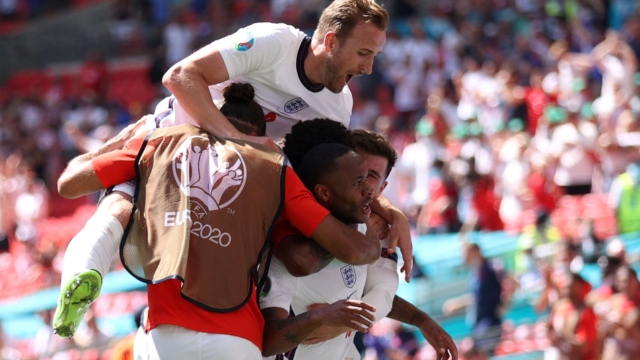 15 Jun

England need to make a statement against the Scot's

England's Euro 2020 curtain raiser couldn't have gone too much better. A solid performance resulted in a 1-0 win over the team which inflicted such heartbreak and misery on an expectant nation at the 2018 World Cup, and while eyebrows were certainly raised at Gareth Southgate's team selection prior to kick-off, in the end the experienced Three Lions did exactly what was asked of them by their manager.

Kieran Trippier's out-of-position involvement ahead of two of the world's best left-backs was a peculiar one on the face of it, but it was clear that Southgate trusted the Atletico Madrid man's tournament know-how and he did not disappoint; assured in defending whilst proving a nuisance in attack.

Kalvin Phillips divides opinion among supporters who would prefer to see a more attack-minded player take up his position in the heart of midfield, but the Leeds United anchorman stole the show on Sunday with his assured performance against one of the best central midfield trios around – even turning provider for Raheem Sterling's second-half goal.

Now, focus turns to Scotland. A game which means so much for obvious reasons could well determine the rest of the tournament for England. Steve Clarke's side were well-beaten against the Czech Republic despite starting strongly and going close to finding the net throughout. David Marshall's questionable positioning for Patrik Schick's world-class second goal from the half-way line proved to be costly and, trailing the game by two goals, the Tartan Army just couldn't find a route back into things at Hampden Park.

It is now easy to think that England will steamroll their geographical neighbours in Friday's do or die tie at Wembley. History suggests that they will too. But this is the European Championships and on such an occasion, with so much at stake, the plan can often become diverted.

Anything but a convincing win not only puts us at a disadvantage in the group, but mentally it could well be a determining factor to how far we can actually go in this tournament. We've beaten the strongest opponent Group D has to offer, now it's time to thrash the weakest. Three back-to-back 1-0 victories are all well and good and plenty of plaudits must be awarded for an impressive 270-minute long clean sheet, where Tyrone Mings was the standout star in the latter with his calm and collected performance alongside John Stones in the heart of the back-four on Sunday afternoon.

But now it's time to kick on and start regaining some solid attacking form. Harry Kane has now failed to score for the national team in his last three outings, and while his role for England has adapted into much more than just a goalscoring spearhead at the top of the pitch, he is still the man relied upon to set an example in front of goal; to rally the troops in the final-third.

On Sunday he looked a little off the pace, so a solid outing against a Scotland team with clear defensive frailties is the perfect opportunity to re-acquire some of the blistering confidence we have all become accustomed to witnessing from him over the years.

The job in hand is a simple one on the face of it. Don't let the occasion get the better of you, defend first but don't let the duties in attack take too much of a backseat – something it has largely done in recent outings.

It's all well and good nabbing narrow victories; a win, afterall, is a win. But to win this unforgiving tournament early statements need to be made and goals need to be scored at an alarmingly-abrasive rate.

Time now to kick on; Scotland are there for the taking – let's be sure not to miss the boat.