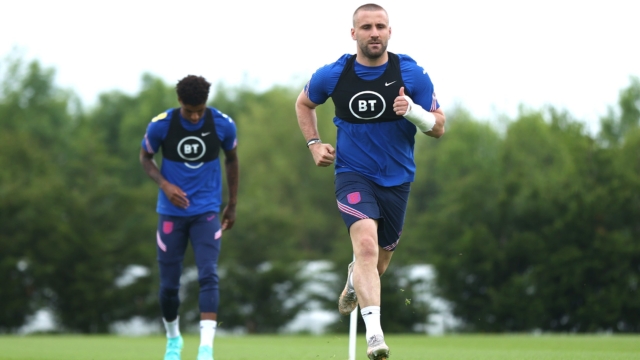 24 Jun

England's Defensive Solidity Can Get Them Far

As the sun set on the famous Wembley arches on Tuesday evening, there was a collective feeling of relief among England fans. After a lifeless performance against Scotland five days earlier, where the Three Lions failed to muster barely anything in the way of a goalscoring opportunity, a glimmer of hope was reinstalled following a solid and professional performance against the Czechs.

Cries for Jack Grealish to be introduced to the fold were finally answered, and the Aston Villa man did not disappoint his loyal band of followers with a stunning first-half display in north London. The 25-year-old added flair, excitement and promise to a team that have looked one dimensional and tepid in the two games which preceded Tuesday night's group stage finale.

The height of Grealish's impact took just 12 minutes to come to fruition, when he burst down the left flank to the touchline and stood up an inch-perfect cross for the oncoming Raheem Sterling to nod home at the back post. 1-0. Despite some organised pressing, the visitors offered very little in the way of a problem for Southgate's robust outfit, who have now not conceded a goal since the end of March.

Harry Maguire slipped seamlessly back into defence and looked calm and assured throughout, like he'd never been away. John Stones was again impressive, while Kalvin Phillips and Declan Rice held the midfield together and put an end to any potential Czech attacks before they even had a chance to get started. Jordan Henderson's inclusion for the second half is yet another promising sign for Southgate and England as a whole.

Next up, a monumental challenge awaits. A match against Group F runners-up and familiar foes Germany in the last 16, a side who many predict will put an end to the Three Lions' journey at this summer's tournament. It would, in truth, be delusional to think otherwise. England will not beat the Germans by outplaying them throughout 90 minutes, but that is not to say that they cannot win by out-defending their opponents, just like they have done at Euro 2020 so far, albeit against inferior opposition.

Joachim Low's side have endured a turbulent campaign so far. They started with a narrow 1-0 victory against France but were lucky that VAR and a competent linesman were on hand to prevent it from being more, despite spells where you could argue they were the better team. Then came Portugal, a game that they dominated for the most-part and showed good resilience to come from a goal behind to win 4-2. Die Mannschaft looked the real deal, back to their best; a side to be feared and one you'd want to avoid at all costs in the knockouts.

All this made last night's 2-2 draw with bottom-side Hungary – where they fell behind twice – all the more perplexing. Before kick-off it seemed a foregone conclusion that the three-time European champions would breeze through to the last 16 as either group winners or runners-up, and while they did eventually do the latter, it was after tirelessly battling a rampant Hungarian storm rather than blissfully skipping through a mid-summer breeze.

But all this works for England. Out of the three big guns Gareth Southgate's side could have faced next Tuesday, you'd argue that the country's long-standing rivals would have been the lesser of three evils. Portugal have Ronaldo and have an infuriating knack of getting the beating of England at major tournaments. France have Mbappe, Griezmann, Benzema, Kante and an in-form Pogba to contend with – no thanks.

The Germans are a top side and have some great players. They are, on paper, the favourites heading into next week's do-or-die clash. But throughout this tournament so far England have demonstrated something they have failed to do in recent history – get the basics right. It might not be entertaining; at times down right drab, but it works. There will be an argument from many that with all of the Three Lions' attacking intent, England should go gung-ho for the win on Tuesday, but is that really how we are going to beat a side that are famously robust when things get serious at major tournaments?

Germany have looked suspect at the back in their last three matches, but if you think this pattern will continue in a game as important as a last 16 war against England at a European Championship then, respectfully, think again. What they will struggle with is breaking down 10 players who all do the jobs they are tasked with impeccably, just like they've done thus far.

All of the hard work and drab low-scoring matches in the last six months have been building up to this very moment. They've done it against teams you'd expect them to thrash, now it's Southgate's time to prove that his methods work against the big boys, when it actually matters.