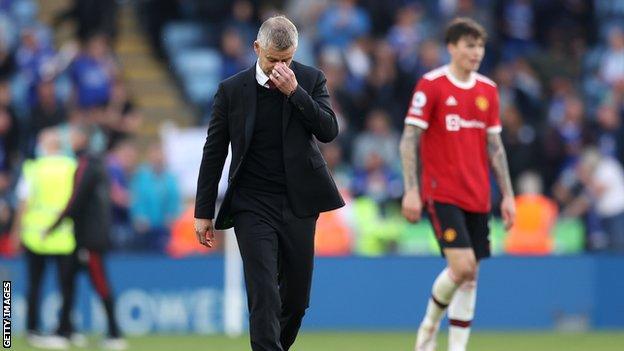 18 Oct

Forget a title fight, United will be lucky to finish in the top-four at this rate

Pressure continues to mount on Ole Gunnar Solskjaer and Manchester United, as another hugely disappointing performance against a top-four rival culminated in defeat at Leicester's King Power Stadium on Saturday afternoon.

The result sees United's winless run in the top-flight stretch to three games, and means that they have only won one of their previous seven games in all competitions. Bleak stuff.

Cristiano Ronaldo has been non-existent for weeks now, failing to score in the Premier League during his last two-and-a-half outings, while his most recent goal – a last-minute strike against Villarreal in the Champions League – came at the end of a performance which could be labelled as 'lacklustre' at the best. 

The 36-year-old was signed in the summer as a ready-made goal machine, with the know-how, experience and obvious talent to hit the ground running and aid United with their first serious title challenge of the post-Ferguson era. Despite a promising start, it looks as though the Portuguese may actually be doing more harm than good in United's current system.. 

In the Premier League this season, no forward has made fewer pressures for the ball per 90 mins than Ronaldo (2.1). For context, Newcastle's Allan Saint-Maximin is the next least-active player for this metric with just under double ball pressures per 90 (5.2), and the best forwards in this department are, somewhat surprisingly, Crystal Palace's Wilfried Zaha and Brighton's Neal Maupay (20).

Ronaldo is of course not to blame for United's shortfallings this campaign. The club knew what they would get from a player of his ilk and age – little to no workrate but plenty of goals. Well, the latter is starting to falter a little, that much is clear, but it is worth remembering he has still scored five goals in eight all-competition games and the limitless extent of his talent means that a bucket load more could easily be just around the corner.

What is more obvious to anyone with two eyes in their head, is just how open United have been throughout the first quarter of this campaign. They have managed to keep just one clean sheet all season and look on the cusp of being overrun in midfield when an opponent gets the ball. 

This was highlighted by Leicester on Saturday. Brendan Rodgers' side were everything United are not at the moment. After Marcus Rashford equalised at the King Power, it took Jamie Vardy less than a minute to put the Foxes back in front, rounding off a well-worked attack from the restart thanks to Aaron Wan-Bissaka's bizarre challenge on Ayoze Perez in the build-up, instead of just, maybe, calmly tackling him?

Wan-Bissaka's failed airborne scissor tackle saw him booked, but more importantly it left Perez with acres of space in the penalty area, able to effortlessly pick out Vardy who, to be fair, still had plenty to do to find the net, but did it with what looked like complete ease in his current form.

Patson Daka then heaped more misery on the visitors with a last minute fumble into the net and the game ended 4-2, ensuring United slip out of the top-four down into sixth-place, with a treacherous run-in approaching against the likes of Liverpool, Tottenham and Man City in the next three weeks. Less than ideal.

It now looks impossible to see United's campaign ending with anything other than tension at making one of the Champions League spots, let alone a surge for their first title-win in what will be nine years come May. You could argue that sticking with Ole has paid off in the past; the Norwegian has often flipped bad spells into promising runs and last season the club made relative progress by finishing second and reaching the Europa League final.

Now, though, having spent heavily in the summer is Ole going to find himself under pressure soon.?