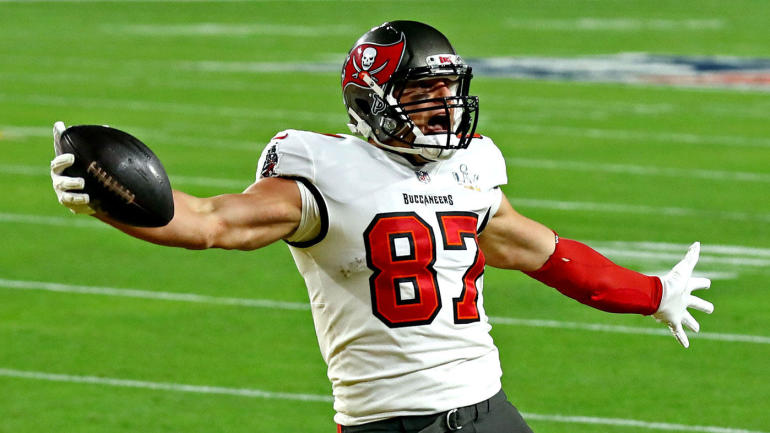 22 Jul

Has Rob Gronkowski really called it a day?

Shortly after Tom Brady announced that he would be running it back with the Tampa Bay Buccaneers, Rob Gronkowski announced his retirement for the second time. The four-time Super Bowl champion wasn't expected to retire considering Brady's return, and it could either be a smokescreen or the truth.

When Gronk announced his retirement from the league, he made sure to thank his teammates and the entire Buccaneers organisation for the great couple of years and the Super Bowl ring. He said that he is happy with the way his career has played out to this point and can head to his retirement home with his head held high. Gronk said, "The friendships and relationships I have made will last forever, and I appreciate every single one of my teammates and coaches for giving everything they had as well. From retirement, back to football and winning another championship and now back to chilling out, thank you too all."

Almost instantly after he made these comments, his agent lit up the internet but talking about a scenario which could see him return this year. He said, "It would not surprise me if Tom Brady called him during the season to come back and Rob answers the call. This is just my opinion, but I wouldn't be surprised if Rob comes back during the season or next season." Fans quickly jumped to the conclusion that Gronk doesn't actually want to retire, but he instead just wants to get out of all the practice and training that goes along with a new season. This could mean that he'd either return for the season opener or would come back towards the end like how Eric Weddle did it for the Los Angeles Rams last year and just play in the postseason.

Gronk isn't one of those types of people that you can just guess what he's going to do and then he's going to do it. Everybody has been thinking that his career will last as long as Brady is his quarterback. Which, up to this point, has seemed like the truth. When Brady announced his retirement just a few months ago, the entire football community was awaiting Gronk's announcement also. After all, why would he want to stick around on a team that is without a starting calibre quarterback? However, he didn't announce anything until Brady decided to return to the gridiron after a couple of months off. In my personal opinion, I heavily believe that Gronk is done for real this time and could only return if the Buccaneers are a top seed in the NFC and making a run at another championship. Otherwise, there isn't much left for him to accomplish. He's already solidified as one of the greatest tight ends of all-time and has had some injury issues in the past. Going through the entire regular season again with another week added on just seems unnecessary for him at this point in his career. So, obviously the door is still left open for a return like his agent said. Although, I definitely wouldn't be sitting around and waiting for him to walk through it. It looks like last season was the final time that Gronk will ever go out and hit the field.