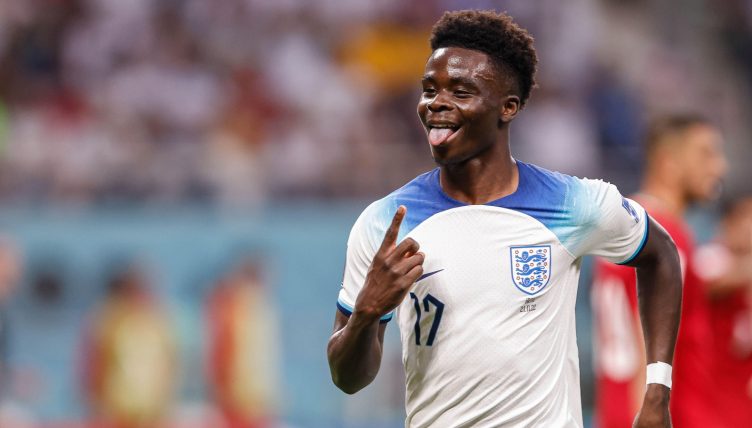 22 Nov

Saka embodies the spirit of a young Three Lions side capable of going far in Qatar

Just 16 months after missing a decisive penalty against Italy in the Euro 2020 final at Wembley, Bukayo Saka was the star of the show as England cruised to their first win of what will hopefully be many at the 2022 World Cup in Qatar.

The young Arsenal winger has been one of the shining lights in a glimmering Arsenal side which currently sits top of the Premier League during this unprecedented tournament-induced winter break. He has four goals and six assists to his name in the league and has yet again been a standout performer in the top-flight during the campaign's opening three-and-a-half months.

Now, still just 21 years old and with an entire career in front of him, he finds himself as one of the first names on Gareth Southgate's England team sheet, ready to leave his mark on the World Cup at the first time of asking.

It would have been all too easy – and understandable – for Saka to shrink into himself following such a heart-wrenching scenario which culminated in him receiving a barrage of vile abuse from racist degenerates on social media. Missing a penalty down your local sports centre whilst playing in the 874th tier of English football is tough enough to take, so one can only imagine just how difficult it was to have to immediately recover from one which happened when the stakes were so high.

But that is exactly what the Arsenal academy graduate has done, and he is a full embodiment and proud example of exactly what this dynamic, young and hungry Three Lions team are all about. We said it before at the Euros – there is something different about this crop of players. The wheels were starting to turn in Russia back in 2018, where several of this year's 26-man squad featured in an exhilarating run to the semi-finals.

Three years on, momentum began to really build during the Covid-delayed European Championship where England went one step further and made the final, eventually defeated by those dreaded spot-kicks at the National Stadium. Now, though, with a practically unchanged squad reinforced by some star-studded (and frighteningly young) quality, England look more than ready for the challenge which lies ahead.

Many will argue that beating group underdogs Iran is something which should not provoke too much excitement, and expectation should still be capped for a nation who have not won a major international tournament for almost six decades. This is perhaps the correct outlook to share. But England did not just beat Iran, they thrashed them and unlike in years gone by – where games such as Monday's group opener have often provided an unwelcome banana skin or produced a far-from-convincing slender victory – the Three Lions played expansive, exciting football and as a result have sent a message to the watching world that they should be considered as serious contenders this time around.

It is all down to the spirit which pulsates through this group of players. The one embodied by Saka and highlighted with his two sensational goals on a stage far maturer than his tender years; a stage which could have easily looked too big and too daunting for him to overcome after what happened last summer.

He is not alone. Marcus Rashford also missed a penalty against Italy and found himself subjected to the same level of despicable torment by so-called 'supporters' of our nation. The Manchester United man has struggled for form at club level this season but has appeared reborn in recent weeks, perhaps fuelled by the desire and spirit to do his country proud on the main stage.

Rashford was introduced as a second-half substitute against Iran and scored instantaneously. Jack Grealish got in on the act late on, too, and his struggles at City have been well-documented (and firmly overhyped) since he joined the club last year. Jude Bellingham scored his first international goal and it was his country's opener at a World Cup. He is 19 years old but plays with the confidence, ability and experience of someone twice his age.

The early signs are promising for England in Qatar – Friday's test against the US will provide us all with a deeper understanding of just how far they can go. One thing which looks clear at this early stage, though, is that the fight, determination and team spirit required to reach the latter stages of this winter's tournament won't be something found lacking in this particular group of self-assured superstars.