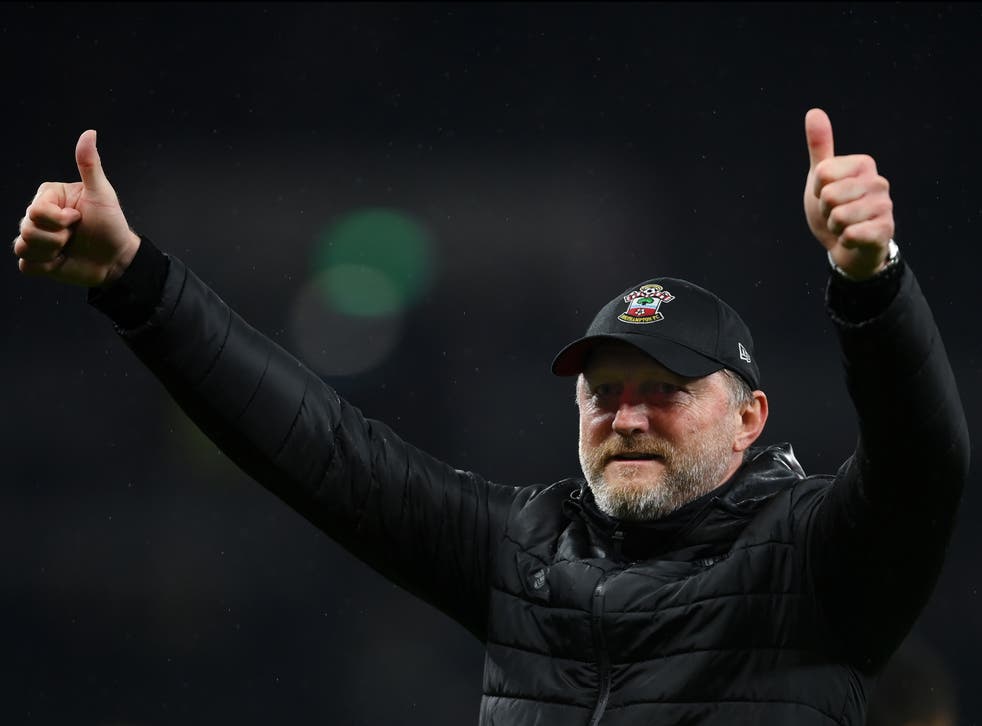 11 Feb

Top takes from this week's midweek Premier League action

Following what felt like a three-year winter break and proceeding FA Cup weekend, the Premier League returned to our screens this week and, as always, there were plenty of talking points.

Rezzil takes a deeper look at five of the main takes from the latest helping of top-flight drama…

Wreck it Ralph silences Conte

I am a Southampton fan, but I promise you that the following lines of heartfelt worship towards the club I support are totally unbiased and 100% genuine. Describing Wednesday's comeback win away at Tottenham as 'the greatest performance in Premier League history' is probably a step too far, but only just.

Ralph Hasenhuttl's side were nothing short of phenomenal in north London, fighting back from a goal behind to defeat Antonio Conte's side 3-2 in a goal-infused thriller which I had the pleasure of watching live at Spurs' magnificent new stadia, which is honestly breathtaking. A solid 10/10, you need to go if you've not yet done so.

James Ward-Prowse was in typical James Ward-Prowse form, whipping in not one, but two inch-perfect crosses for the Saints' second and third goal. Cancelling out an early own goal from Jan Bednarek and Son Heung-min's well-taken finish 20 minutes from time. Conte was left red-faced on the touchline, p*ssed wet through and humiliated after giving it the 'shhhh' just moments before. A beautiful sight for Southampton (and Arsenal) fans worldwide.

See, totally unbiased.

Lampard baptised with fire at St. James' Park

Frank Lampard knew what he was getting into taking charge of an Everton side fighting for their lives near the foot of the table, but he probably would've welcomed getting a few more games under his belt before a six-pointer away at an intimidating, sold-out St. James' Park, against a Newcastle side who have seemingly picked up a bit of momentum under Eddie Howe.

Whether or not the Toffees underestimated the magnitude of Tuesday's fixture remains unclear, however a toothless performance which led to a humiliating 3-1 defeat – against a direct relegation rival – saw any feelings of happiness gained after Saturday's FA Cup win over Brentford completely evaporate into the cold north-easterly wind.

It highlighted just how much work there is to be done for Lampard at Goodison Park, and that they are certainly not yet clear of the genuine threat of relegation.

Wilfried Zaha should never take another penalty

Wilfried Zaha is a professional football player, and a very good one at that. I am not a professional football player; in fact, I am barely a professional anything. Therefore, scrutinising this really good football player seems hypocritical. He has, afterall, scored six Premier League goals this season, making him Palace's joint-second leading goalscorer.

However, I do genuinely believe that I, a mere amateur Saturday league footballer, would have probably done a bit better than the 29-year-old's disasterclass of a penalty at Norwich on Wednesday night. At least hitting the target before my feeble effort was ultimately saved with complete ease. I'm racking my brain to try and remember if I have ever seen such a poorly taken spot-kick at professional level, and I really can't.

The expression 'caught in two minds' springs to attention for me, though after repeatedly watching it I think poor old Wilfried was caught in at least four, which resulted in him dragging the penalty so far wide it almost went out for a throw-in. Still, he did score at Carrow Road and Palace avoided a defeat against a resurgent Norwich outfit away from home, so the ridicule ends there. I'm sure he'll probably bag a hat-trick this weekend to really shut me up. I hope he does.

Why can't United get it right?

Another day, another hapless United performance. For all of their dominance in the first half, where the Red Devils took the lead through a fantastic Paul Pogba finish, Ralph Ragnick's side were stunned by Jay Rodriguez's equaliser after the break and couldn't forge another opening at Turf Moor.

With so much attacking talent on show, it is somewhat bewildering to get your head around the fact that they often struggle so much to score goals. The quality is undoubtedly there, so why can't it produce consistently?

Burnley were terrific in the second half; tough to break down and well organised, everything you would expect from a Sean Dyche side fighting for their lives at the bottom of the table. But United will view this game as two points dropped and now sit sixth in the league after West Ham and Arsenal both won their midweek games, substantially losing ground on the top four.

Ragnick has steadily improved things since his arrival at Old Trafford, and the process is still ongoing. However, United can ill afford too many more performances where their most clinical assets – some of the best natural goalscorers in the world – are anything but that.

Jota strikes twice to keep Liverpool's faint title hopes alive

Liverpool kept their faint hopes of winning the Premier League alive with a strong performance and 2-0 win over Leicester on Thursday evening. Diogo Jota struck twice to continue his fine run of form and show that even without Sadio Mane and Mo Salah, the Reds have enough firepower in front of goal to get the job done.

Jurgen Klopp and Liverpool supporters will be delighted that the returning superstars will be back in time for this weekend's trip to Burnley. However, this period without them – where the Reds have won six and drawn one of their seven games in all competition – has silenced a large portion of critics who believe the club lacks depth.

Should Liverpool win their game in hand, the deficit between themselves and table-toppers Man City will be cut to just six points – sizable, when you consider just how flawless Pep's side are, but by no means impossible to close. Game on.