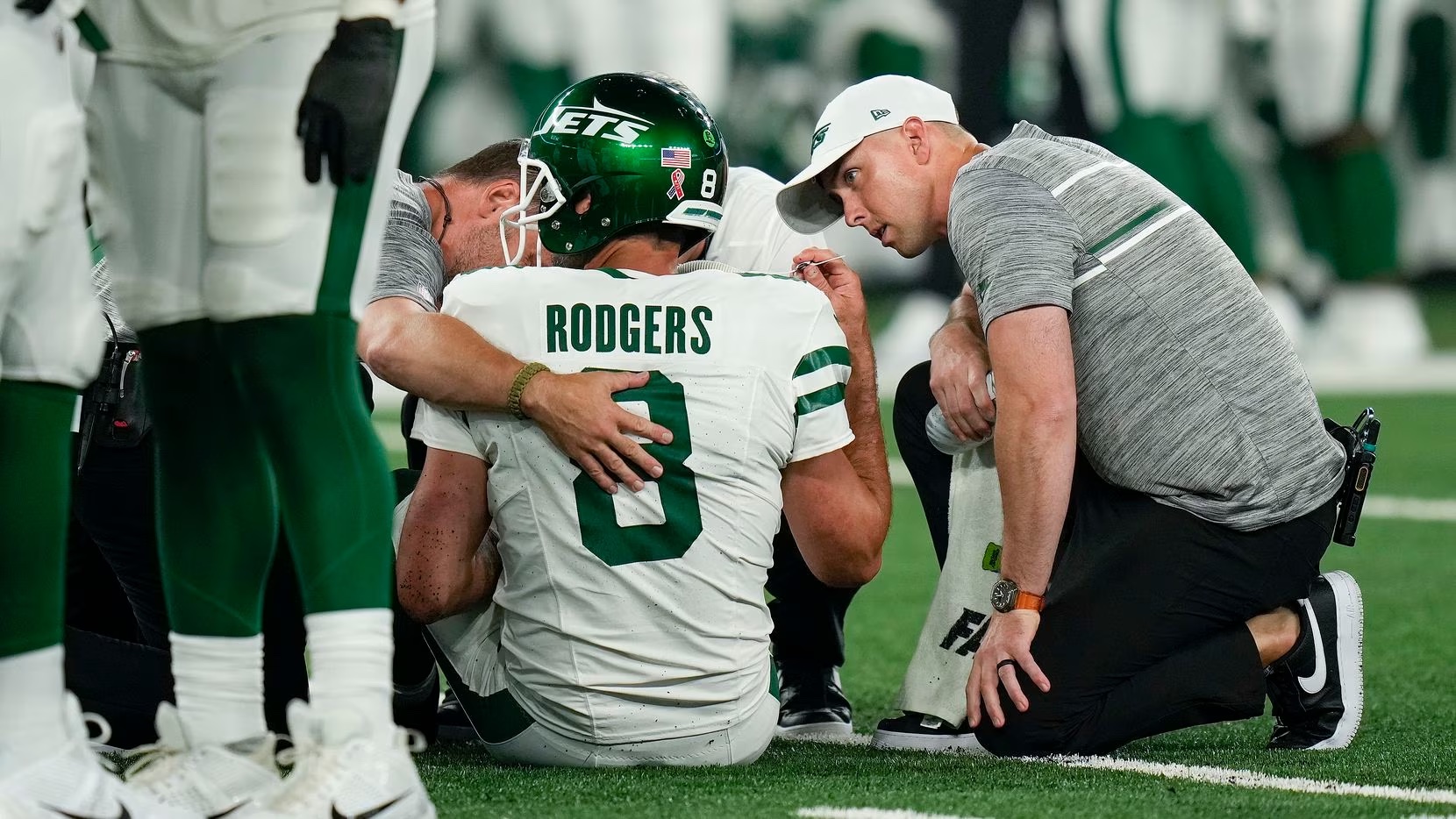 The excitement at MetLife Stadium was palpable, but it didn't last very long. Just four snaps into the New York Jets season, Aaron Rodgers suffered an injury and exited the game. Four snaps. The Jets were anticipated to be Super Bowl contenders with Rodgers, the best quarterback that the team has had in over a decade. That all goes out the window with this injury.
There hasn't been an official designation on Rodger's injury yet, but everybody fears it is a torn Achilles. Rodgers was hit on every single dropback to start the game, and the third wrap-up was the one that saw him fall awkwardly. It didn't look like anything serious at first glance, with Rodgers hopping back up with a small limp. However, he looked over to the sideline and shook his head, later slowly sitting down on the ground and stopping play. He was helped off the field by two staff members and went into the blue tent. Later, everybody watched in disbelief as the cart came out to take Rodgers into the locker room.
The game continued at this point, though it was only a matter of time before a new update emerged from the locker room. Instead of the fans seeing Rodger's sprint out onto the field again, he was seen in the tunnels sporting a boot on his leg. He went back and got X-rays on his leg, and everything came back negative, though that wasn't the concern initially. Rodgers is scheduled to get an MRI today at some point, which is when the bad news is anticipated. When the New York Jets ended their game with a win over the Buffalo Bills, head coach Robert Saleh grimly responded about Rodger's future this year. He said, "It's not good." On top of what we all saw on the field, his statement puts an Achilles tear as a major possibility, which would keep him out for the remainder of the season.
It couldn't be more disappointing in New York right now. The Jets just got Hard Knocks because of the hype surrounding this team and Rodgers. Rodgers was named the franchise's saviour after they endured years of poor quarterback luck. And on top of that, the team hadn't made the playoffs since 2010 and has only been over .500 once since then. It was about time they could be good again, and then Rodgers' injury happened so fast. 
There were worries throughout the camp about Rodgers's calf injury coupled with a mediocre offensive line. However, this was far worse than anybody could have anticipated. An Achilles injury keeps him out all year, leaving the Jets with Zach Wilson. It also means he would have only played four total snaps with the team. And we can't forget that he's 39 years old, an age where a tear like this could be career-ending, especially because he was thinking about retirement in 2022. It is an awful situation, and you must feel for these Jets fans and players right now. Related news
Consetetur sadipscing elitr, sed diam nonumy eirmod.