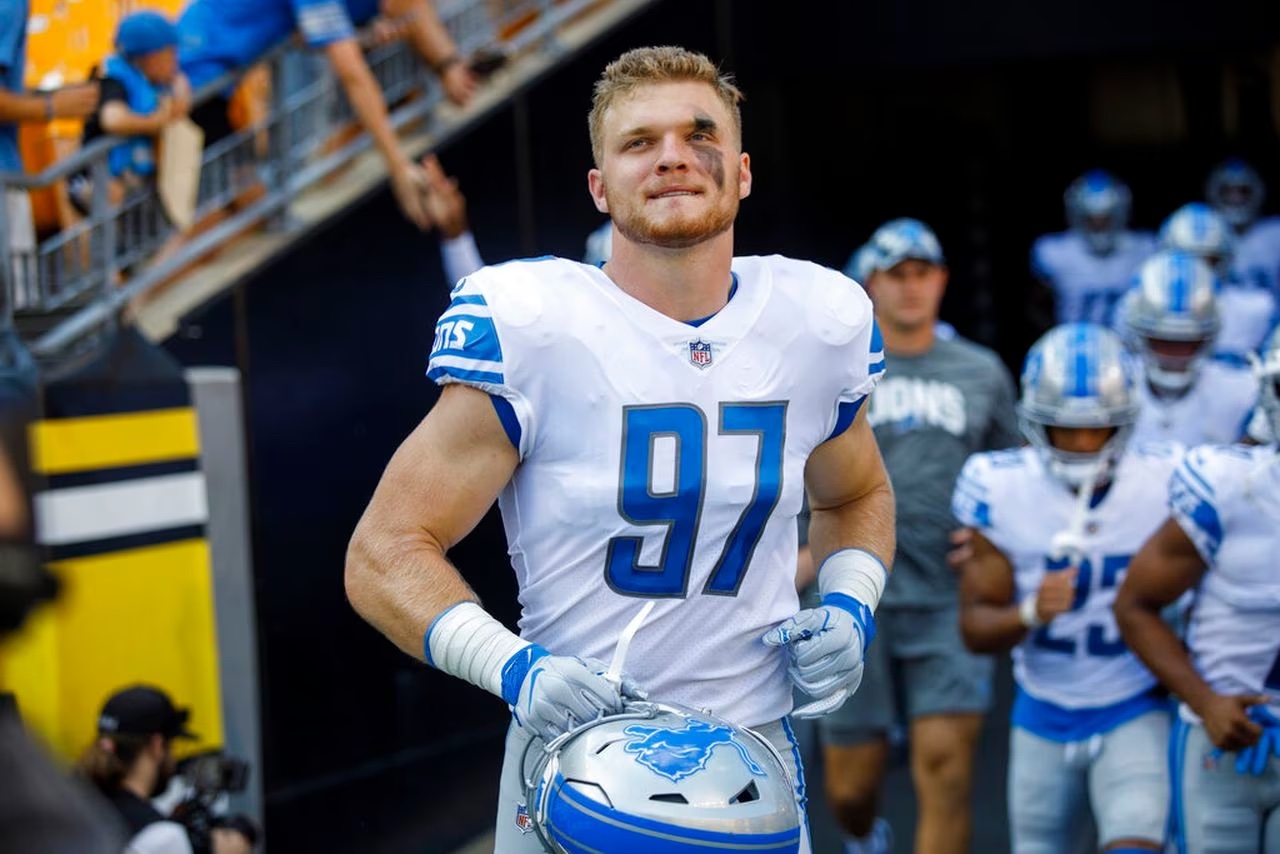 It felt like the entire year leading up to the NFL Draft, Aidan Hutchinson was going to be taken with the number one overall pick, regardless of who received it. When the Jacksonville Jaguars got that selection, they turned heads when they drafted Travon Walker instead. The Detroit Lions were going number two overall, and immediately swooped in to take advantage of that decision by snagging Hutchinson. The Lions and the Jaguars are currently holding joint-practices, and reporters caught up with Hutchinson to ask how he felt about being passed up on in the draft.
A reporter asked if he had it out for Jacksonville after they didn't draft him and he responded by saying, "Nope. I'm happy here. Very thankful. I mean, it all worked out. It was divine timing. The way things went was the way things were supposed to go." He also continued this statement by saying he was really hoping the Lions would draft him instead of the Jaguars during his draft process. For those that might not believe him, Hutchinson went to Divine Child High School which is incredibly close to where the Detroit Lions practice facility is in Michigan. Hutchinson even attended Michigan in college and wanted to stay close to home when moving into the NFL as well.
The decision to pass up on Hutchinson didn't exactly pan out the way that Jacksonville would have hoped. Walker racked up 3.5 sacks, a fumble recovery, and an interception while transitioning to a different role compared to what he was used to. Meanwhile, Hutchinson had 9.5 sacks, three interceptions, and two fumble recoveries. He was also second in the Defensive Rookie of the Year race behind Sauce Gardner. Detroit is unbelievably happy with how the draft order went along that year, while the Jaguars are hoping that Walker can find some solid footing moving forward. I think it's safe to say that neither of these guys have reached their true potential just yet. Though the comparisons between them will last for their entire careers due to being taken one and two.
If you talk to Hutchinson, he thinks that his rookie campaign wasn't even him scratching the surface of what he can do at the NFL level. A reporter asked him about it, and he said, "I think the sky's the limit for me. I really feel that. I haven't even scratched my potential yet. I feel like I'm still stacking the days, getting so much better every day. Man, it's going to be a fun year."
Who knows how good this Lions team can be with an improved version of Hutchinson in 2023. The Lions are already considered to be one of the more talented teams for the first time in a long while. They might not be Super Bowl contenders just yet, but this definitely seems like the year they can make a long-awaited return to the postseason. What they are able to do with that opportunity, well, we will just have to wait and see. Related news
Consetetur sadipscing elitr, sed diam nonumy eirmod.