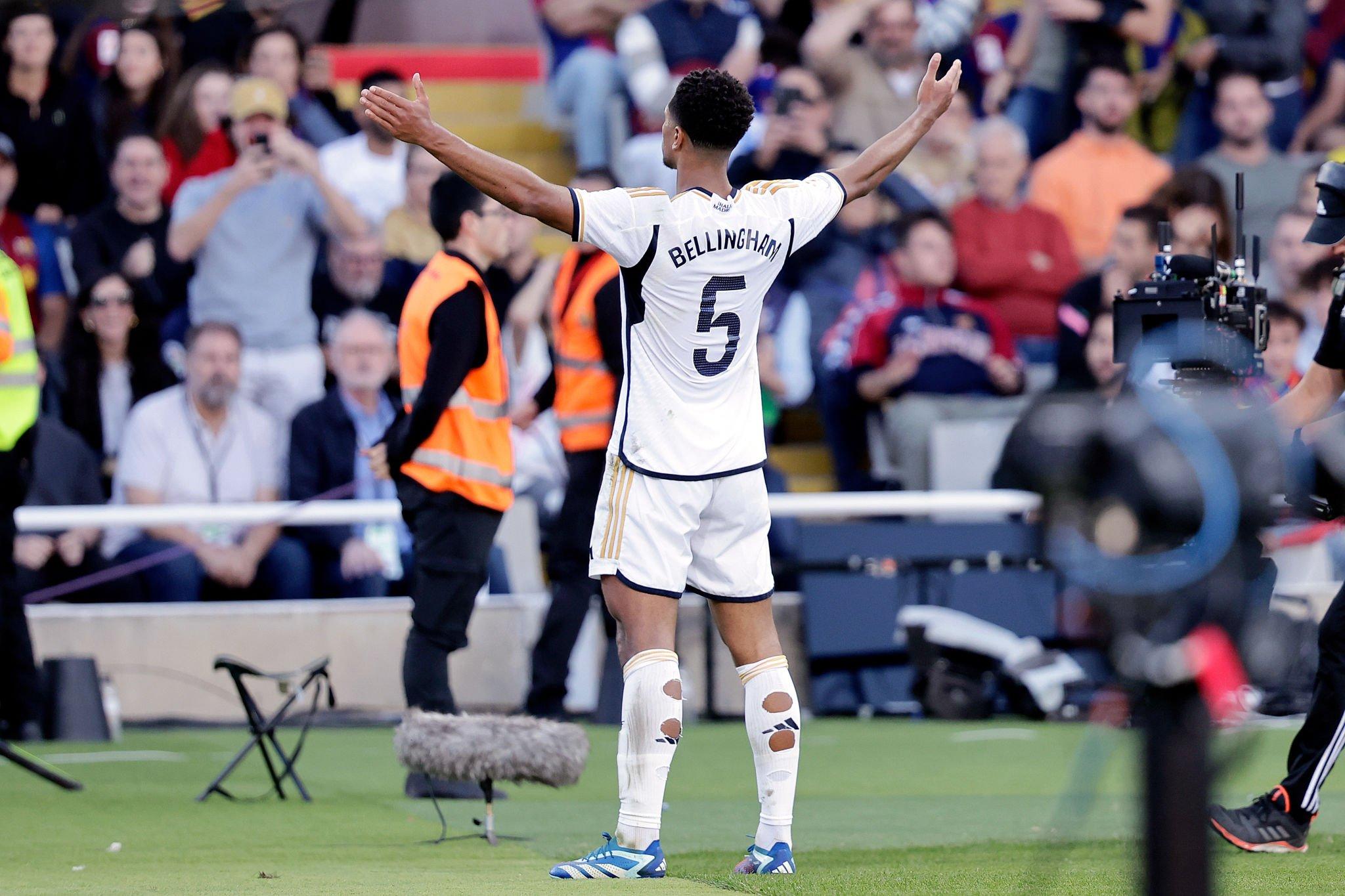 BUNDESLIGA
On Friday night we began in Germany. Two of the bottom three sides, Bochum and Mainz, faced off in a six-pointer. It ended in a score line which neither side would've wanted, 2-2. This was followed on Saturday by a feast of goals. Bayern Munich was one of the sides who ran rampant, scoring eight, yes eight, in a win versus Darmstadt. The game was a hectic one. It saw three first half red cards, one for Bayern and two for Darmstadt, and they went into the break goalless. Harry Kane and co ensured it didn't finish this way though. A hat-trick from the centre forward, including a goal from his own half, as well as doubles from Jamal Musiala and Leroy Sané meant the home side rose to second in the table.
This was possible after a Stuttgart side missing Serhou Guirrasy lost to Hoffenheim 3-2. This was their first loss after an eight game win streak… they'll be hoping their starman is back soon! This loss gave Borussia Dortmund the opportunity to go above Stuttgart if they won against Eintracht Frankfurt. Despite scoring three they didn't take the win, as the hosts held them to a 3-3 draw! The home side led both 2-0 and 3-2 during the game but BVB wouldn't give up, both times coming from behind to latch onto a point. To round off in Germany Xabi Alonso's side won yet again, remaining unbeaten and top of the Bundesliga, can they keep it up?
LA LIGA
It was a big weekend in Spain! Girona vs Celta Vigo was the Friday night game, the two teams with nothing between them for the ninety minutes. Until Yangel Hererra stepped up in the first minute of added time, hammering the ball into the back of the net from the edge of the box. Girona went top for the night, the dream continues! Michel's side needed Barcelona to stop Carlo Ancelotti's men in order for them to remain top of the pile. For a while it looked like this may be possible, Ilkay Gündoǧan's strike in the sixth minute put Los Blaugranes ahead. The home side looked relatively comfortable in their lead until up stepped the man of the moment. Jude Bellingham. An absolute thunderbolt of a strike drew Los Blancos level, and he wasn't done there. It was in the ninety second minute when Luka Modrić played a ball into the box and guess who was there again, Jude Bellingham, turning the ball past Marc Andre Ter Stegen to win the game for Real Madrid. He is undoubtedly a true Galactico.
Sunday wasn't short of entertainment in La Liga either, Valencia held Atheltic Bilbao to a 2-2 draw, gaining a much needed point. Rayo Vallecano drew 2-2 also with Real Sociedad, two teams who have been playing good football this campaign, splitting the spoils thanks to a last minute goal from Bebé for the home side. Before we head to France let's not forget about Atletico Madrid's 2-1 victory over Alavés, this victory means if they win their game in hand Diego Simeone's side will go top!
LIGUE 1
Nice continued their unbeaten start to the campaign with a 1-0 win over Clermont thanks to a goal from Hicham Boudaoui. This victory keeps Nice top of the table, one point above last season's champions Paris Saint-Germain. Speaking of PSG, a last minute goal from none other than Kylian Mbappe secured the three points for Les Parisiens, although his goal was a rebound from a penalty missed by himself.
Elsewhere in the league, Lens are carrying on their positive run of form with a win, this time 4-0 over Nantes. After a poor start to the campaign they're steadily turning it round, they're now eight games unbeaten across all competitions. Unfortunately, the headlines in France were taken by the abandoned Marseille vs Lyon game. We expected to see a heated exchange on the pitch on Sunday night but unfortunately tensions ran high beforehand as Lyon's team bus was attacked by fans. This meant the game didn't go ahead as Lyon manager Fabio Grosso suffered a head injury from falling shards of glass, he required medical attention to tend to his face which was bleeding heavily. Wishing him a speedy recovery.
SERIE A
In Italy Inter Milan still lead the pack after their 1-0 win over José Mourinho's Roma. A goal in the last ten minutes from Marcus Thuram was enough to be the difference between the two sides. The scoreline was actually quite generous to Roma, with Inter dominating the ball and having sixteen more shots than Roma. Although it is tight at the top, with only three points between both Milan sides, with Juventus wedged in between them.
Staying with Juventus, a ninety sixth minute goal courtesy of Andrea Cambiaso was the winner for them in a 1-0 victory over Hellas Verona. Like Inter, although it was late, they deserved the win. With an xG of 3.37, 30 shots had, and two disallowed goals, it's hard to argue they won undeservedly. Monday night gave us Lazio vs Fiorentina, a fiercely contested match where cards and goals were expected. In the end Lazio ran out 1-0 winners thanks to a ninety-fifth minute goal by Ciro Immobile.
ELSEWHERE
Over in Portugal Sporting remain undefeated and are top of Liga Portugal by three points after their 2-0 win away against Boavista. Both Benfica and Porto are level on points behind them. Benfica drew 1-1 to 13th placed Casa Pia this weekend, while Porto won away to Vizela.
The weekly trip to check on Ajax returns. They faced PSV in what would usually be a top of the table clash. Ajax led twice in the first half, and went into halftime 2-1 up but fell apart in the second, allowing PSV to step in and score four to win the game 5-2. PSV have played ten and won ten. Sat on thirty points with a thirty plus goal difference, not a bad season so far I'd say… better than Ajax's anyway. Ajax sit bottom of the Eredivisie.
Finally, in Scotland Celtic surprisingly dropped points to Hibernian in a 0-0 draw, although they still remain top of the table by five points and are unbeaten. Behind them in second place is Rangers, who had a very chaotic last ten minutes versus Hearts. The away side led going into the last couple of minutes, this was until they conceded a penalty, giving Rangers the opportunity to equalise. They did so through James Tavernier, many thought that was that but Danilo didn't. Less than three minutes later he popped up with the winning goal for Rangers. Maybe they were inspired by the recent late goals of a certain Scotsman called McTominay. Related news
Consetetur sadipscing elitr, sed diam nonumy eirmod.