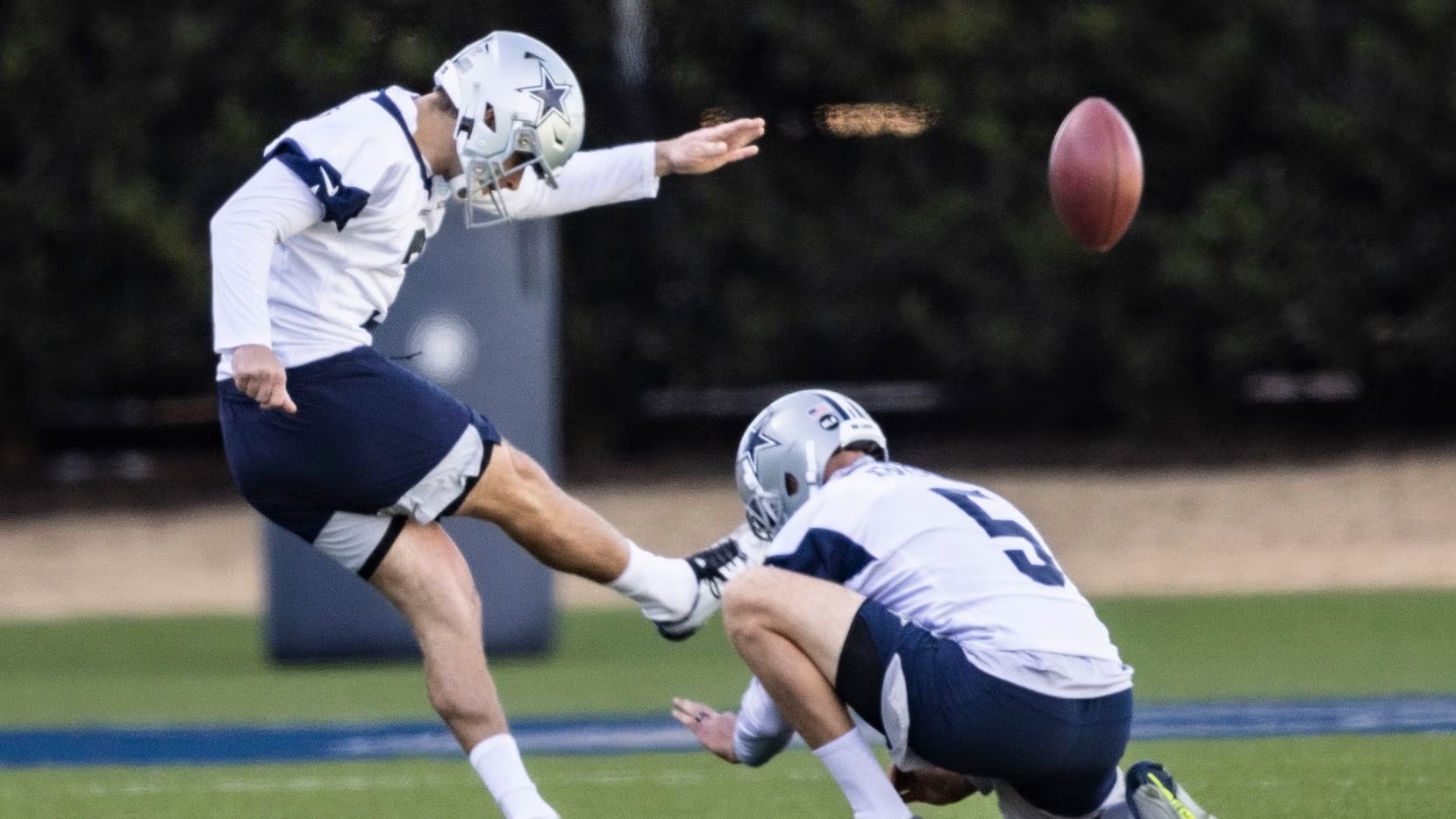 17 May
Dallas Cowboys in dire need of a kicker
The Dallas Cowboys are not happy with their kicking situation this season. When speaking with their special team's coordinator, he had a blunt response to their lack of depth in the position and the openness of it moving forward.
As it stands right now, the only kicker that remains on the Cowboys roster heading into OTAs is Tristan Vizcaino. Vizcaino, for reference, has played in just ten games over the span of three full seasons. He attempted 12 field goals over the course of his entire career as well. While he could win the job, it doesn't guarantee success at a crucial position in the NFL. 
Reporters asked coordinator John Fassel about how Vizcaino was the only guy on the roster and if they were looking to improve in that area. He said, "Well, we've got Tristan on the roster. Anybody else on earth who is not on the team right now is under consideration. That's everybody really." If you're Vizcaino, that's not exactly the confidence you'd hope the team would have in you. However, he will likely not shy away from extra competition and knows his job isn't secure. 
Fassel brought up three specific kickers that could be a target for Dallas or options that they are hoping to replicate in their scouting process. Fassel brought up Mason Crosby, Robbie Gould, and Ryans Succop. Kickers have been very good at the NFL level for a long time. These aren't players that come around very often, but it's something that Dallas is looking into. Fassel also mentioned, "I think the good thing for us at the kicker spot is just being patient and deciding who that second guy is we're going to bring in, whether it's not or training camp to compete against Tristan." 
We all got to watch the Cowboys kicking situation take a turn for the worse during their postseason run in 2022. Kicker Brett Maher missed four of his five extra-point attempts in the Wild Card win over the Tampa Bay Buccaneers, then another extra point in the Divisional Round.  He made two field goals, but the PAT misses were far too many for them in the season's most important games. When asked if the team would consider bringing him back into the fold, Fassel said, "I think everything's on the table. Let's face it, if you look at Brett, he had a great year. He had a bad game. But he played 22 games, but he had a bad game and a half." 
For now, Vizcaino will be the starter for the Cowboys at the kicker position. If it's not Vizcaino, we could see Crosby, Succop, or Gould come in to attempt to steal the job away and help Dallas. Or maybe it's none of those options, and Dallas picks up a random name that nobody could be familiar with. That might be the strangest option of the bunch, though it's a possibility with how desperate they appear to be.