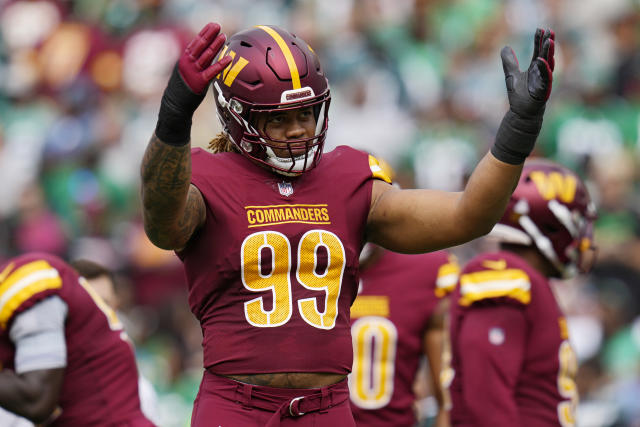 The NFL trade deadline has officially passed, and we could definitely see a change of direction for a few different teams. For some, a potential rebuild or retooling is in play. For others, a chance for a Super Bowl could never be greater, so let's dive into some of the moves from the day.
The biggest move at the trade deadline came for the San Francisco 49ers. The 49ers were able to strike a deal with the Washington Commanders to acquire defensive end Chase Young in exchange for a 2024 third-round draft pick. Now, Young has some bad injury history, though he is a former Defensive Rookie of the Year and is still playing on a minimal contract. He will also benefit from playing alongside Nick Bosa, one of the best edge rushers in the league. He makes this front pass rush that much more formidable. Meanwhile, the Commanders move somebody they weren't willing to pay anyway and get a modest return for him.
Another deal involved the Commanders when the Chicago Bears traded for edge rusher Montez Sweat and gave the Commanders a second-round pick in 2024. The deal was very similar to the Chase Young move, but the only difference is that Chicago isn't contending for a Super Bowl right now. The fact that they'd give away a high-value second-round choice for a win-now type of player is interesting. However, Sweat could transform the defensive line for the Bears and dramatically improve their overall defense. 
The Minnesota Vikings also added quarterback Joshua Dobbs and a seventh-round draft pick in exchange for a sixth-round pick from the Arizona Cardinals. Dobbs has played pretty well in Arizona, though the team just couldn't compete like they'd like. They sit at 1-7 and are getting Kyler Murray back very soon, which probably influenced this move. Kirk Cousins just tore his Achilles, leaving a wide hole at quarterback in Minnesota. Dobbs should fill that void eventually, while the Cardinals don't have to worry about benching him in favor of Kyler.
Next, the Seattle Seahawks added defensive lineman Leonard Williams from the New York Giants in exchange for a second-round pick in 2024 and a fifth-round pick in 2025. A second-round choice is quite a lot to give up, but Seattle did need a pass rusher once Uchenna Nwosu suffered a season-ending injury. Williams bolsters a talented defensive line, while the Giants add more draft capital in a 2-6 start. 
The Buffalo Bills also added cornerback Rasul Douglas and a fifth-round pick from the Green Bay Packers in exchange for a third-round pick. Douglas has proven to be a pretty good cornerback, and the Bills really need help back there after the injury to Tre'Davious White. Douglas should immediately start when he learns the playbook, and the Packers get to add draft capital. It's intriguing why they'd move on from him, though they might be looking more toward the future rather than their 29-year-old corner.
Then, to quickly wrap up some of the smaller moves, the Detroit Lions grabbed Donovan Peoples-Jones from the Cleveland Browns for a sixth-round draft pick. The Jacksonville Jaguars nabbed Ezra Cleveland from the Minnesota Vikings for a sixth-round pick. The Atlanta Falcons added Kentavius Street and a seventh-round pick from Philadelphia for a sixth-round pick. And finally, in a trade last week, the Eagles added former All-Pro safety Kevin Byard in exchange for safety Terrell Edmunds, a fifth-round pick, and a sixth-round pick. All in all, it was a mediocre trade deadline, but a few teams in particular really made moves to get better. Related news
Consetetur sadipscing elitr, sed diam nonumy eirmod.