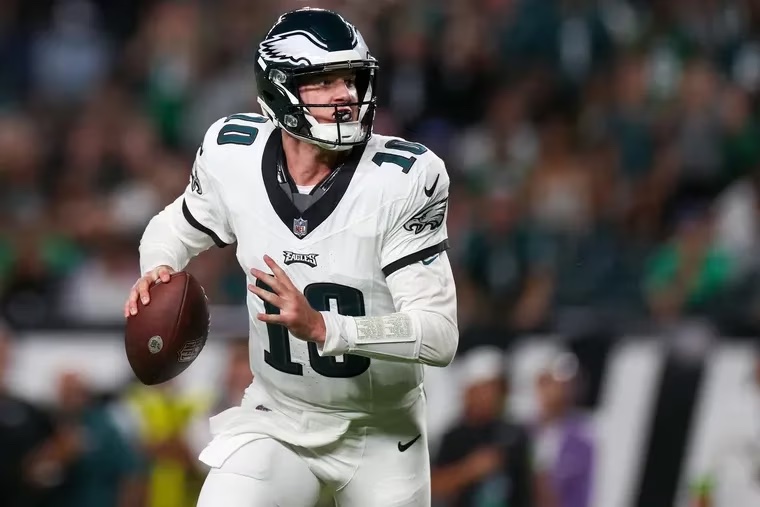 After the Philadelphia Eagles competed against the Cleveland Browns in their second preseason affair, rumours were popping up of a potential backup quarterback battle. The Eagles saw a horrendous performance out of the veteran Marcus Mariota, opening the door for the third stringer. However, head coach Nick Sirianni shut the door on a potential depth chart change.
The Eagles had Gardner Minshew replace Jalen Hurts a few games in 2022, but he's off to the Indianapolis Colts now. Mariota was signed in the offseason due to his dual-threat ability in the backfield. The first two preseason games that he's played have proven that he isn't comfortable enough though. This past week, he played the entire first half against the Browns. He completed just nine of his 17 pass attempts for 86 yards, an interception, and was sacked three times. These numbers were accumulated through seven drives, which the offense totalled just 88 yards and five first downs in total. It was blatantly clear that he wasn't getting the job done, against the Browns backups.
Behind Mariota, the rookie Tanner McKee stepped in and got the offense rolling for the second straight week. McKee completed 10 of his 18 passes for 147 yards and a touchdown in six drives. He also would have posted better numbers if it weren't for a handful of drops from his wide receivers. Then again, McKee is playing against a good chunk of guys that won't make it onto the official rosters by the start of the season. Still though, McKee's recent performances had been thought to possibly unseat Mariota, but Sirianni disagrees. The head coach said, "Way too early on this. Marcus is out backup, and pleased with the way Tanner is playing." Sirianni spoke more in depth about how he has to do a good job of figuring out what Mariota does well on the field also to help him out more.
The struggle that Mariota has shown on the field thus far does cause some concern for the Eagles moving forward. Minshew wasn't the best quarterback around, but he filled in nicely for Hurts in the games that he missed. If Mariota is unable to get anything going, Philadelphia could be in dangerous territory. After all, Jalen Hurts is a mobile quarterback that uses his legs often. In a nightmare scenario, he misses time and Mariota will play late season snaps for them.
The bottom line is that most NFL teams want to feel confident about their backup quarterback. It just doesn't feel like the Eagles can say that right now. It'll be very interesting to see what happens with Mariota during the third and final preseason game. Will they let him play another half of football to see if he turns it around? Will he barely get any playing time due to the starters getting some rest? Or could he simply lose his backup spot entirely with another poor outing or a great one from McKee? These are all questions that we will have to just wait and see on, though Philadelphia definitely isn't a team without their own respective flaws. Related news
Consetetur sadipscing elitr, sed diam nonumy eirmod.