REZZIL INDEX
The world's leading virtual training platform for developing elite football players.
Rezzil Index is a suite of virtual drills designed to analyse, benchmark, educate and improve any player.
Our system is the only contextual cognitive training platform for football in the world and triggers the same neuroplastic responses as with a real ball. BENCHMARK TESTING
Calculate a players Rezzil Index.
A series of cognitive drills that simulate game pressure scenarios are performed to calculate a players Rezzil Index.
The test takes around 20 minutes to complete and can be used to benchmark large groups very quickly. The data is passed into our secure web portal for you to interrogate and look for player characteristics such as:
Decision making · Working memory · Spatial awareness · Situation awareness · Concentration · Agility · Planning · Foot bias · Technical adaptability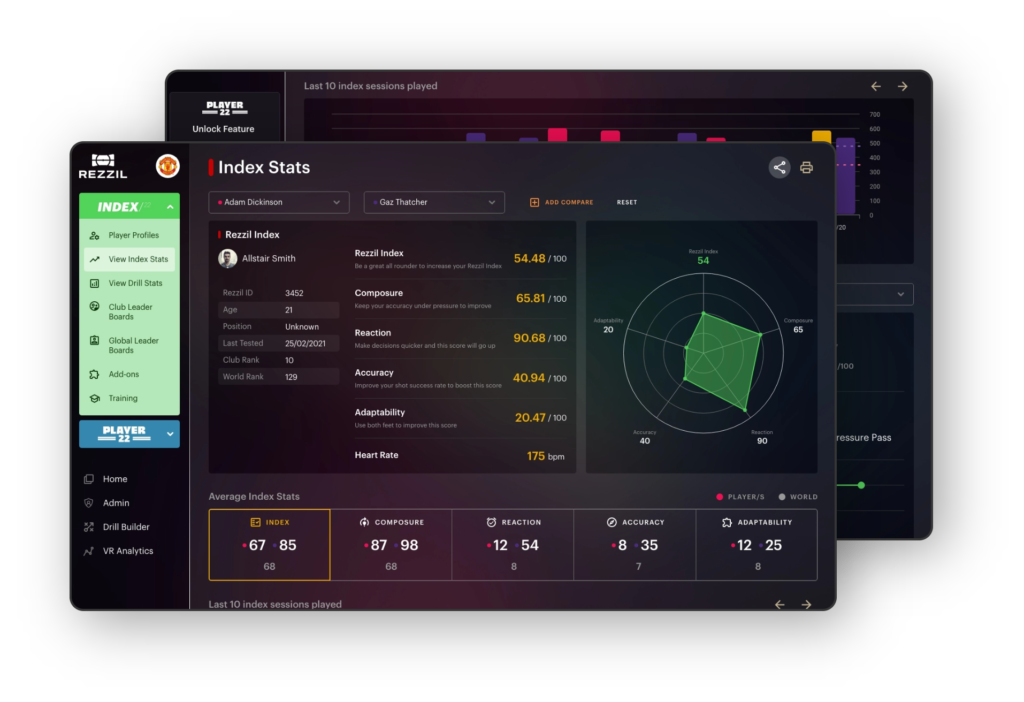 Try out Rezzil Index for free.
Download a free 14-day trial of Rezzil Index to see how it can help you improve your players.
For more information before downloading, book a call with one of our experts here for a virtual demo.
DATA DRIVEN
An elite platform for measuring talent.
As players perform the Rezzil Index Test, data and stats are sent to our secure database. Accessed at club level; coaches, scouts or managers can view the data in realtime.
Our online web portal displays the data in easy to understand metrics, exported raw or as a player report card. Club level and world ranking leaderboards are available to promote competition within your club.

"Using the Rezzil software, you can see how players have come on in their scanning and decision-making ability. The players really love using it."
RASMUS ELM, ASSISTANT COACH
– KALMAR FF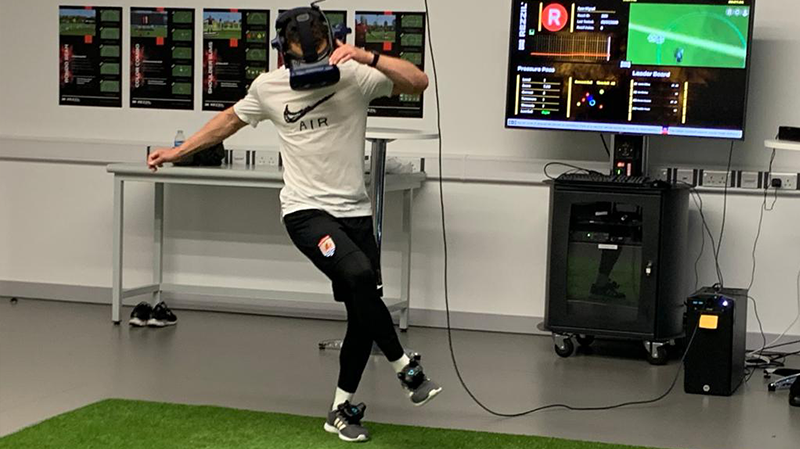 "Rezzil's approach to the future of cognitive development is cutting edge"
BURNLEY FC, MANAGER
– VINCENT KOMPANY

HARDWARE REQUIREMENTS
Rezzil Index runs on PC using either a Vive Pro or Valve Index VR headset and 2 Vive trackers. Rezzil Index works in small spaces from 3×3 up to 10×10 metres.
Wireless options are also available.
We recommend using your own hardware or subscribing to our elite package, where we will provide hardware and support.
Recommended Specifications
Windows 10 64-Bit
Intel i7 9th generation or above
Nvidia Geforce 3060 or above
16gb memory
PRICING
Start training your players today.
Rezzil Index is software subscription only and includes support and access to our cloud services.
£50/month
Using Own Hardware
No Setup Fee
No Contract
Basic Support
Index Software with 5 Drills
Online Leaderboards
Access to Knowledge Base
Video Training
Limited to 5 Profiles
£400/month
Using Own Hardware
No Setup Fee
No Contract
Premium Support
Index Software with 5 Drills
Online Stats Portal
Online Leaderboards
Access to Knowledge Base
Video Training
24h Email Support
Unlimited Profiles
£600/month
Using Rezzil Hardware
12 Month Contract
Premium Support
Index Software with 5 Drills
Custom Branding
Addons Included
Online Stats Portal
Online Leaderboards
Access to Knowledge Base
Video Training
24h Email Support