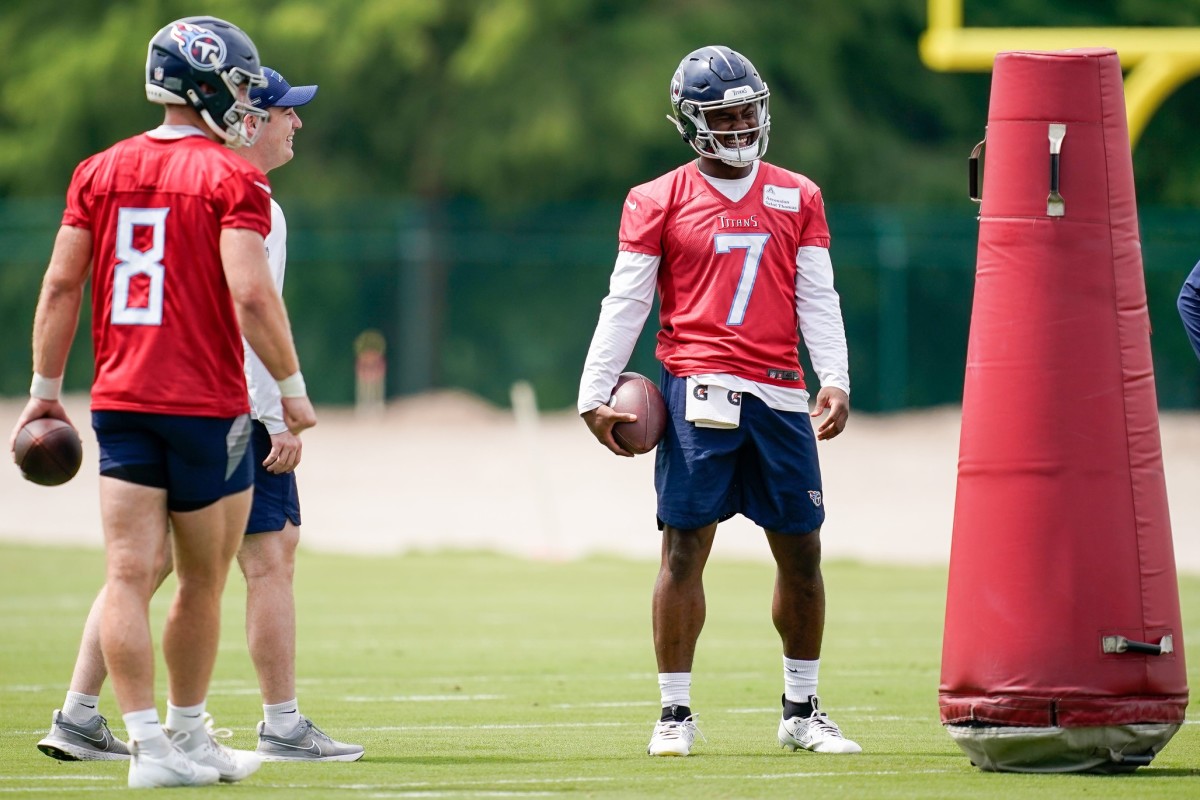 It's expected that the veteran quarterback Ryan Tannehill will be out for this week's game against the Atlanta Falcons in Week 8. While he's not ruled out yet, that is currently the expectation so far, which would have one of either Malik Willis or Will Levis in line to see some action in his absence. Well, head coach Mike Vrabel has admitted that if Tannehill can't play, we'll be seeing both of those young signal callers here.
Vrabel said, "If Ryan can't play, I would anticipate both of those quarterbacks playing in the football game." Willis has previously started a few games in Tannehill's absence in the past and didn't exactly do very well. He struggled so much that they traded for Josh Dobbs to sub in for Willis down the stretch. Willis again subbed in as a replacement in Week 6 and completed four of five passes for 74 yards with three rushes for an additional 17 yards. The problem was that he took four sacks in two fourth quarter drives, something that has to be cleaned up.
Meanwhile, Will Levis hasn't seen any action just yet. He's a rookie that was taken very early in the second round. However, some analysts expected him to be a potentially high first round draft pick, it just didn't wind up happening. Levis did miss the final two preseason games with a thigh injury, so that didn't help his progression early on. His missed reps is likely to cost him the start over Willis, though the potential is still very high on Levis, which makes it incredibly difficult to keep him out of the game.
One thing that should be noted though is that dual quarterback systems don't work very well. The majority of them crash and burn, and this one could be no different. The downside is that neither quarterback gets into much of a rhythm, nor does it offer either of them much confidence from the coaching staff because they couldn't decide upon one or the other. Vrabel ended his interview by saying this, "We'll see what the game plan looks like. First of all, see where Ryan's at, and then talk about what we may want to do throughout the course of the game." The Titans are currently dead last in the AFC South at 2-4, which makes this an important game.
Although, Tennessee might not care much about their record with the trade deadline rapidly coming up. They just traded their former All-Pro calibre safety Kevin Byard for practically nothing to the Philadelphia Eagles. In the same day, they were rumoured to have players such as DeAndre Hopkins and Derrick Henry on the chopping block with a rebuild on the horizon. That hasn't happened yet, though it's an interesting situation down there in Tennessee. There's a strong possibility that their upcoming game with the Falcons can change the direction of their franchise for years to come. Even if that does sound a little dramatic at the moment. Related news
Consetetur sadipscing elitr, sed diam nonumy eirmod.