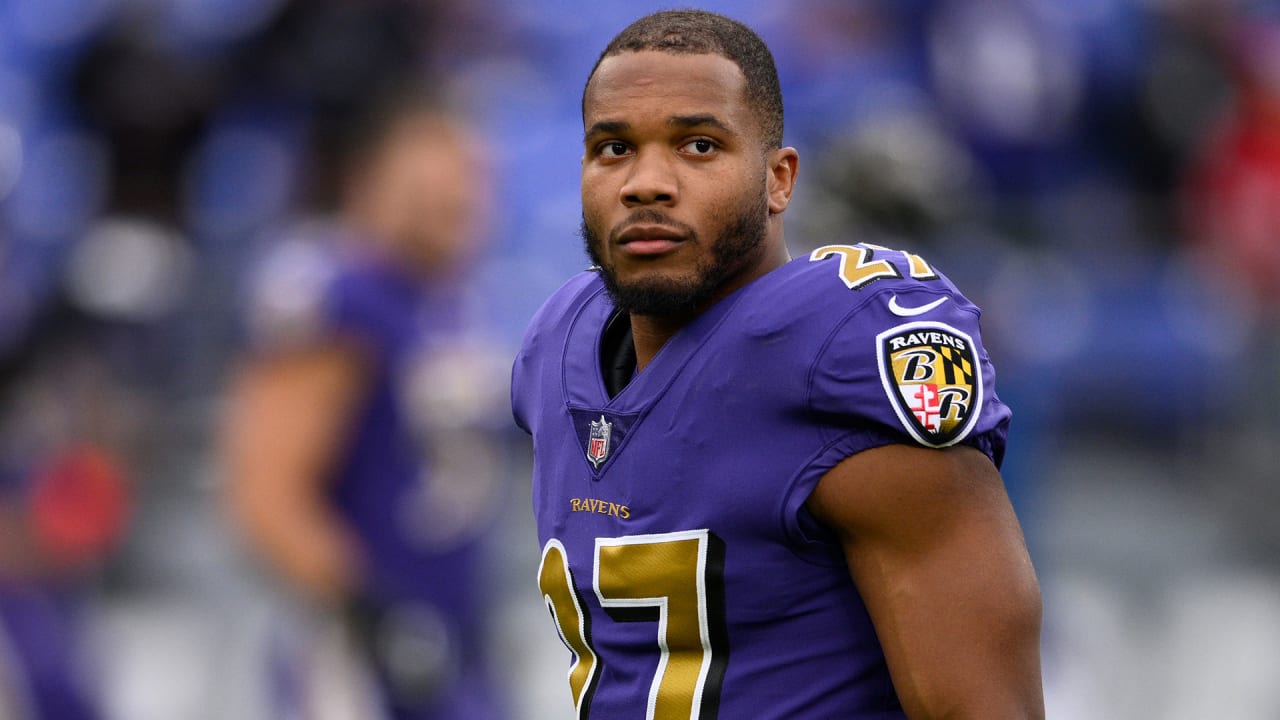 With all the talk regarding running backs getting new contracts, the JK Dobbins situation has seemingly fallen under the radar. Players like Saquon Barkley, Josh Jacobs, Tony Pollard, and Austin Ekeler have all been under the spotlight, while Dobbins hasn't even been mentioned. However, his situation is arguably the strangest of the bunch due to his lack of leverage. 
See, training camp has officially started in Baltimore, and it was clear that Dobbins didn't arrive. Reporters were peppering questions at head coach John Harbaugh on whether or not Dobbins would show up to camp at some point in the near future. Harbaugh couldn't answer clearly and admitted it was a difficult and complex issue. He said, "That's a J.K. question. I wish it was a simple answer. There's always a lot of things that go into football, but there's some complexity to it, and we're working through all that. J.K.'s working through it, and I'm looking forward to when he's out there." 
Dobbins is on the physically-unable-to-perform list for the Ravens after knee surgery, though it's deeper than that. He's in the final year of his rookie contract, which is set to give him $1.39 million throughout this upcoming campaign. It's been heavily implied that Dobbins is looking for a new deal, and even if he could be out there, he wouldn't be considering his contract situation. What makes his holdout different is that he holds zero leverage. Dobbins has missed more games than he's played throughout his football career, and the Ravens managed just fine without him due to Lamar Jackson's rushing ability. 
To recap Dobbin's career so far, he was drafted in 2020. He had a great rookie year but tore his ACL the following summer. Since then, he's played two more football seasons with just 23 games. In those contests, he rushed for 1,325 yards and 11 touchdowns. Mind you; he had 805 yards in his rookie season alone. And has just 500 rushing yards in the past two years. With top-tier, offensive-carrying running backs like Barkley and Jacobs not getting paid, it's hard to imagine Dobbins holding out and getting what he's looking for.
To make matters worse, Dobbins has been outspoken about not getting the football enough to shine. This past season, he openly stated that he had never received over 15 carries in an NFL game yet. There was some disdain for the play caller for that not happening. Later on, in the year when they lost in the Wild Card round of the postseason, Dobbins was frustrated that he didn't receive the ball on the goal line. That play instead went to Tyler Huntley on a quarterback sneak that backfired, causing a fumble and a Sam Hubbard return for a touchdown. 
Injury or not, Dobbins has missed mandatory minicamps and the start of training camp. If it is contract-related, he has a long and strenuous journey ahead of him. Related news
Consetetur sadipscing elitr, sed diam nonumy eirmod.