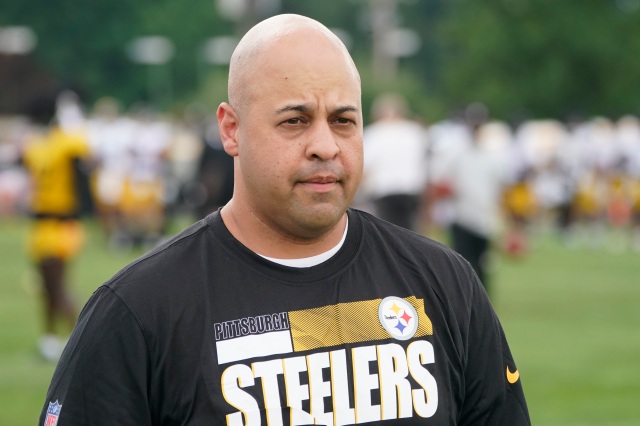 04 May
The 'Khan Artist' has a wonderful draft
There's no question that the Pittsburgh Steelers came away with one of the best drafts at first glance. Much of it was thanks to their general manager Omar Khan, who had just completed his first draft with the franchise since joining there. And, well, he's already got himself quite the nickname because of it.
Head coach Mike Tomlin said, "What do they call him, the Khan Artist? I like that. That's pretty good. It's a cool nickname." This caught the ear of Khan himself, who laughed and said, "I've been called worse!" Now, this nickname isn't a surprise due to how aggressive Pittsburgh was to go up and get the guys they wanted. They didn't just draft the best player available either, which many teams seem to fall into. Instead, they filled most of the holes they needed to without giving up significant assets.  
They started the night by jumping up three spots to select offensive tackle Broderick Jones at number 14.  Khan had to move right before the New York Jets to make this happen, a team that certainly needed help in that department. It was also the first time the Steelers drafted an offensive tackle in the first round since 1996. The day after, he refused to give away the number one pick in the second round. He grabbed Joey Porter Jr., the son of linebacker legend Joey Porter Sr., a man who played for the Steelers and became a staple in their history. Porter Jr instantly becomes a top threat for them at the cornerback position, another area they desperately needed help in. Also, they wouldn't have even gotten him if Khan hadn't shipped Chase Claypool off to the Chicago Bears, which was a fleecing and a half, if you ask me. 
Pittsburgh stayed busy on the third and final day as well. They snagged Keeanu Benton to start it off, a defensive tackle to help bolster their depth in that department. Then they followed it up by trading back to get more assets that they lost to move up. When they did get another selection, they grabbed Darnell Washington, the tight out of Georgia. A player that many believed was one of the best tight ends available and would have possibly gone in the first round if it weren't for injury history and other factors like that. For Pittsburgh to trade back and get him, this late was a massive steal. Coupling all four of these picks together, they all land in the top 40 of Daniel Jeremiah's top 150 prospect rankings. 
There is no doubt that Khan and Tomlin have a vision for the future of this team, and boy, this draft certainly looks promising already. The way they solidify a young core around quarterback Kenny Pickett while not giving up that many assets in the process are a beautiful sight for any Steelers fan. It's not every day that you get a draft with so many hot prospects just falling into your lap.