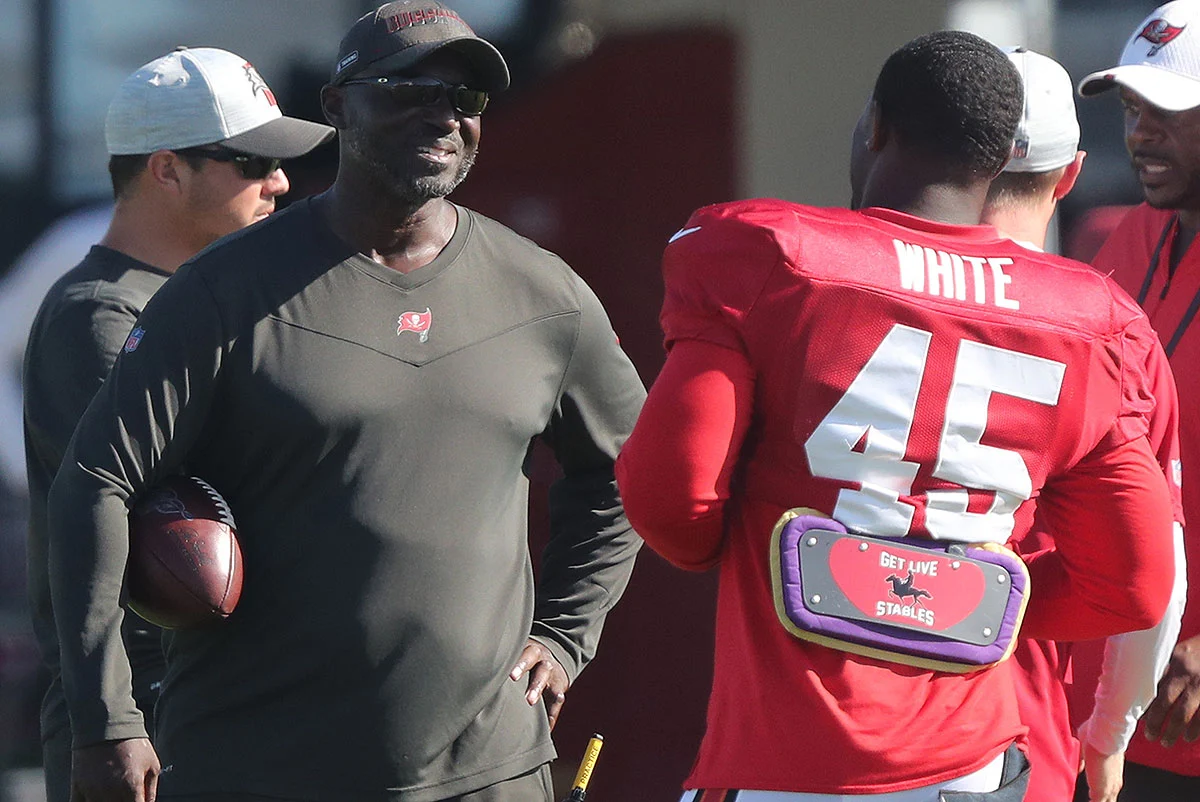 For those of you out there that were hoping Devin White would get traded to your favourite team, it's probably not happening. Not only has the Tampa Bay Buccaneers general manager snuffed out any possibility of a move, but head coach Todd Bowles has now stepped up and shot down those reports.
It wasn't long ago that the Buccaneers star linebacker Devin White requested a trade from the franchise. The request shocked the fanbase and management alike, as it came completely out of leftfield. Bowles was requested to ask about the trade request a few days ago and he said, "We got him onboard for another year like Jason Licht said. We discussed it. We know we're not trading him, and we'll go from there. We know it's the offseason right now, so nothing counts and we're expecting him to be there when the season starts." Bowles hasn't been shy when it comes to riding with White. After all, Devin had a bad year in 2022 and yet remained the starter at the position thanks to Bowles confidence in him.
Bowles has coached him in Tampa for a few years now and knows that last year wasn't his best football. White was a former fifth overall draft choice back in 2019 and is still just 25 years old, right in the middle of his prime. The Buccaneers know how critical he can continue to be for their franchise and picked up his fifth-year option not long ago. The option is expected to give him $11 million in 2023, but White is bargaining for a new deal. That is believed to be the primary reason for the trade demand at this moment, though maybe there's a deeper meaning as well. Regardless, money seems to be at the forefront of this decision.
Bowles also got asked if he thinks White will be making himself available to the team throughout the offseason. To which he said, "It will be up to him, but we'll coach the guys that are here. We've got a good crowd in right now and we're happy everybody is coming to participate. Things don't stand anywhere. It's the offseason and everything is voluntary, so there's really nothing to talk about at this time. But once you get into mandatory and the season starts, then you can talk about it." To be honest, he does have a valid point. White not showing up to voluntary workouts doesn't show any true intent behind what he wants to do moving forward.
Though that's not all, former head coach Bruce Arians offered advice to White in the midst of this ordeal. It wasn't a complex statement at all either, rather a straightforward guarantee. Arians said, "Come on back, earn your money. It's there. Go earn it. That's all you've got to say." Arians is currently the senior assistant to the general manager, so even he is still around the franchise at this time. Arians and Bowles have each won a Super Bowl with White being their starting middle linebacker. There's no question that nobody in that team wants to get rid of him, but who knows what White is looking to do at this time. After all, he doesn't necessarily have that much leverage for a new deal considering his down year in 2022. Related news
Consetetur sadipscing elitr, sed diam nonumy eirmod.