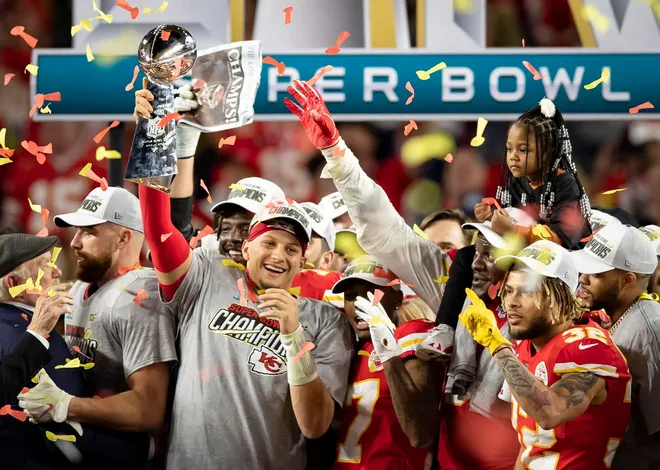 15 Feb
Kansas City Chiefs, Super Bowl Champions Recap
The journey to make it into the Super Bowl is always challenging. Only two teams can make it into the season's biggest game every year. However, one can complete their quest to win it all at the end of the day. For Super Bowl 57, that team is the Kansas City Chiefs. They took down the Philadelphia Eagles in a hard-fought game, 38-35. 
The Chiefs had various impactful players throughout the game to get them to become champions. Patrick Mahomes took home the Super Bowl MVP award for his performance. He had completed 77.8 per cent of his passes for 182 yards and three touchdowns without a single turnover. He also took off six times for 44 rushing yards despite reinjuring his ankle and finding himself in significant pain. Mahomes did get some help from a solid offensive line that didn't allow a single sack to the best defensive line in football. On top of that, the run game started to explode later in the second half, considering the aggressive run style of Isiah Pacheco. Pacheco took 15 carries for 76 yards and a touchdown while taking off for 5.1 yards per carry.
A few other contributors came in the passing game. Travis Kelce again dominated with six receptions for 81 yards and an early touchdown. JuJu Smith-Schuster had seven for 52, and Skyy Moore hauled his first career NFL touchdown at a crucial point in the game. We also have to mention Kadarius Toney offensively, as he scored an easy touchdown in the second half and exploded for a massive 65–yard punt return to bring the Chiefs to the goal line. 
On the defensive end, only one player is worth mentioning. That honour goes to Nick Bolton, the linebacker. Bolton racked up eight tackles, the most on the team, and recovered a fumble that he returned for a touchdown to keep this game from becoming a blowout early on. If it wasn't for Bolton, the outcome could have been different.
Despite the dominance of Patrick Mahomes, Kelce, and Andy Reid, the Chiefs still weren't expected to win this year. The trade to send Tyreek Hill to the Miami Dolphins was expected to hinder them heavily throughout the year. Instead, they were the top seed in the conference and marched through the postseason. It was another phenomenal year out of Kansas City and out of Philadelphia. Even though they weren't able to come away as champions. What Jalen Hurts did in the Super Bowl has to be talked about. He completed 71.1 per cent of his passes for 304 yards and a touchdown through the air. He also ran 15 times for 70 yards and three touchdowns on the ground. All three of their best pass catchers did their job as well. DeVonta Smith had seven catches for 100 yards, AJ Brown had six for 96 and a touchdown, and Dallas Goedert had six for 60. The Eagles deserve some high praise for the year they had, and they will certainly be back sooner rather than later. The Chiefs were able to come out on top at the end here, though and could make themselves a true dynasty very soon with another Super Bowl.